At Gooding Aluminium, our range of decorative cladding panels has been developed with the adage in mind that 'you've only got one chance to make a first impression'. The many desirable design properties of aluminium alloy, including its appearance and its lightweight to strength ratio, makes the material suitable for a varied selection of interior and external applications.
Our superior processing service accurately and rapidly fabricates Aluminium Counter & Desk Panels to meet your bespoke specification.
Choose from our diverse range of aluminium sheets that can be supplied in anodised, mill, satin brush or powder coated finishes.
Significant advances have been made in recent years with processing technologies, thereby increasing expectations of improved products and surface finishes at lower cost. For your preferred material, you can choose from our diverse range of perforated and plain aluminium sheets.
Plain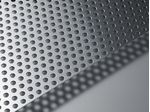 Perforated
Alternative surface finishes are normally available, and these are, anodised, mill (untreated), and powder coated (RAL colours). Take a look at some examples of where these products have been used to do just that. Please note that full credit for these inspirational applications must however be attributed to the architects and designers responsible for the often innovative and creative ways in which GA's aluminium products have been incorporated within the overall conceptual plan.
For more information, visit www.goodingalum.com .